Why should you implement Management System into your organization?
It is vital for organizations to prove compliance with the requirements of internationally recognized standards upon the current demanding global market.
IMPLEMENTACIJA ISO MENADŽMENT SISTEMA U VAŠOJ ORGANIZACIJI!!
Pozovite, pošaljite e-mail, zatražite PONUDU po meri Vaše organizacije, ODGOVOR očekujte istog dana!
Implemented management system (MS), therefore, is a means of ensuring continuity of operations by aligning policies, performance targets and organizational objectives. Regardless of the organization's size, the MS implementation positively inluences the organization's level of internalization and enhances its values by catalyzing the eiciency improvement and risk management process, thus increasing consumer satisfaction, and eliminating redundancies.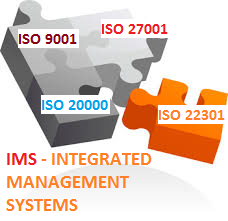 To achieve stability and minimize potential risks, organizations should develop and maintain a management system that addresses their operational needs, assists in the implementation of best practices, and ensures the organization's survivability and competitiveness.
Furthermore, certifying your organization against international management system standards demonstrates that your organization is in compliance with standard requirements and best practices. Choosing the right third party certiication body may not be easy. However, choosing to work with an accredited certification body that complies with international regulatory requirements and has been thoroughly audited by a well-known accreditation body against ISO/IEC 17021-1, will ensure that you receive valuable and credible certification services.
MEĐUNARODNA ORGANIZACIJA ZA STANDARDIZACIJU I INSTITUTI REGIONA ZAPADNOG BALKANA – ČLANOVI ISO ORGANIZACIJE
Find out more about each ISO Management System
Corporate Social responsibility – ISO 26000
uskoro više detalja
IST MANAGEMENT SYSTEMS IMPLEMENTATION APROACH
The Deming cycle follows the process approach, which allows the management systems implementation process to use the requirements and the expectations of the stakeholders as inputs, understand how it produces these requirements with the necessary actions and processes, and also verification of the management system results.
The table below shows how each clause of the management systems can potentially be implemented by following this structure. This structure includes mainly the requirements that are generic and existent in almost all the management systems. However, it should be adjusted based on the specific standards that the organization is implementing and include additional clauses as necessary.