Smernice za menadžment rizikom ISO 31000
ISO 31000 Risk management Guidelines
Guidelines with the following competent standards:
ISO Guide 73, Risk management – Vocabulary
ISO/IEC 31010, Risk management – Risk assessment techniques
ISO/TR 31004, Risk Management – Guidance for Implementation of ISO 31000
IMPLEMENTACIJA PROJEKTA USAGLAŠAVANJA SA SMERNICAMA ISO 31000 U VAŠOJ ORGANIZACIJI!!
Pozovite, pošaljite e-mail, zatražite PONUDU po meri Vaše organizacije, ODGOVOR očekujte istog dana!
UPRAVLJANJE RIZICIMA
PECB obuka Certified ISO 31000 Lead Risk Manager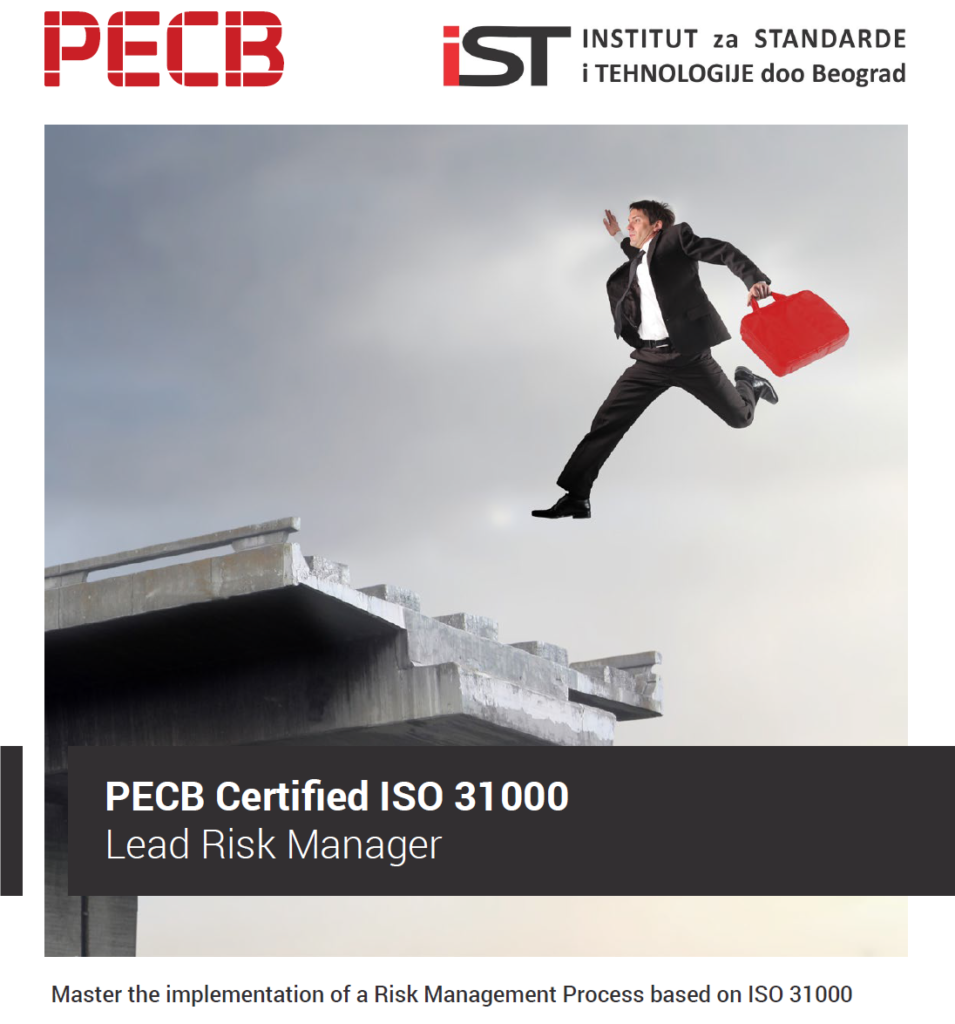 UPRAVLJANJE RIZICIMA
PECB obuka Certified ISO 31000 Risk Manager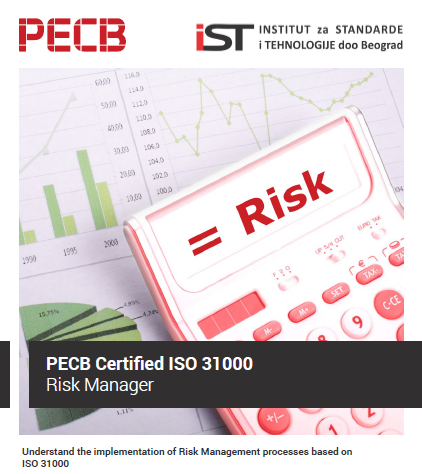 What is ISO 31000?
ISO 31000 specifies principles and guidelines for risk management for identifying, assessing and mitigating risks faced by organizations. It recommends organizations to develop, implement and continuously improve a framework that aims to integrate risk management processes into the organization's overall governance, strategy, and planning, management, reporting processes, policies, values and culture. This framework can be used regardless of the type of risk and organization on deck; it will help organizations to protect their financial stability and reputation.
ISO 31000 contains much valuable information and it represents robust, high-level guidelines for the management of risk. But there is no step-by-step checklist to implementation of the risk management initiative. The challenge for risk professionals is to rearrange the guidance in ISO 31000 to align with their own approach to implementing a risk management initiative.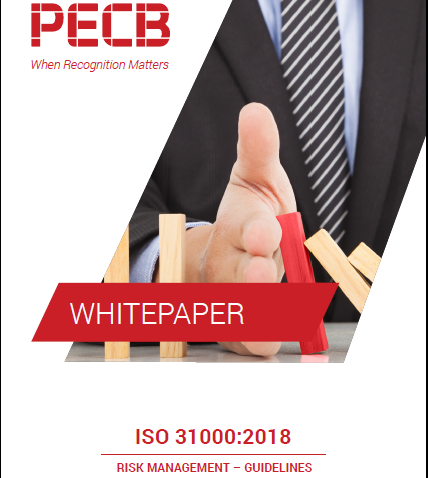 Risk management has played a strong supporting role at board level and Boards are increasingly expected to provide robust oversight of risk management. ISO 31000 provides important information for boards, so that they can define and fulfil their risk oversight responsibilities. These considerations include governance and culture; strategy and objective-setting; performance; information, communications and reporting; and the review and revision of practices to enhance the performance of the organisation.
ISO 31000 was originally published in 2009 and an updated version was published in February 2018. However, the overall purpose of ISO 31000 remains the same and integrating the management of risk into a strategic and operational management system. The 2018 version is very similar to the original version, but the following scheme identify the main changes for the 2018 version of the guidelines.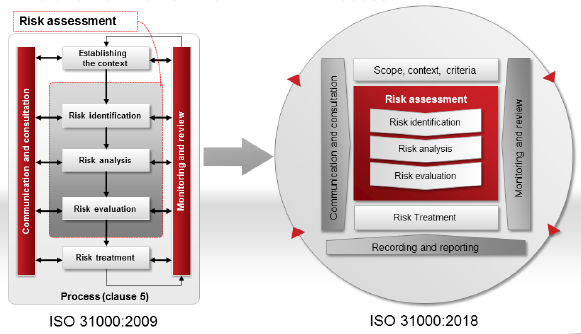 The overall structure and approach adopted by the 2018 edition of ISO 31000 is best illustrated by the diagram included in ISO 31000. ISO 31000 states that managing risk is based on the principles, framework and process described in the guidelines. It also states that these principles and components might already exist in full or in part within an organisation, but they might need to be adapted or improved so that managing risk is efficient, effective and consistent.
IST experts are here to assist you throughout the entire process and if you need help getting started follow the link below and contact us to begin with the first step.
If you need help getting started in IST with PECB training for Certified ISO 31000 Risk Manager and Lead Risk manager, contact us to begin with the first step.
ISO 31000 states that the guidelines should be used by people who create and protect value in organisations by managing risks, making decisions, setting and achieving objectives and improving performance. The guidelines are applicable to all types and sizes of organisations and
relevant to all external and internal factors and influences. They also state that managing risk assists organisations in setting strategy, achieving objectives and making informed decisions. Managing risk is part of governance and leadership and is fundamental to how organisations are
managed at all levels.
Benefits of ISO 31000 Risk Management
ISO 31000 risk management implementation process within an organization will enable the organization to:
Gain competitive advantage – enhanced risk management will support achieving goals and objectives
Reduce costs through proper risk management
Respond to change effectively and find viable solutions
Create and protect value
Increase the likelihood of achieving objectives
Productively identify the opportunities and threats
Identify and mitigate the risk throughout the organization
Gain stakeholder confidence and trust
Create a consistent basis for decision making and planning